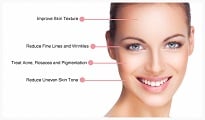 Sublime™ Skin Contouring and Tightening
The FDA-cleared Sublime™ treatment by Syneron/Candela offers virtually painless and fast treatment for wrinkles and
skin contouring and tightening. Conventional skin treatments are time - and treatment - intensive and often
too painful for many patients. With Sublime™, patients can have firm and contoured skin without surgery.
Sublime™ is ideal for targeting those telltale signs of aging, including sagging under the eyes, saggy brow
lines, and nasolabial folds.
How Sublime™ Works
Sublime™ combines safe and effective levels of infrared light and bipolar radiofrequency energies to remodel the dermal layer of the skin by stimulating new collagen growth. Sublime™ exclusive combination of energies provides ideal treatment outcomes with a very low risk of side effects and virtually no down-time. With Sublime, the combination of optical energies and bipolar RF create a synergistic effect that allows for lower treatment levels of both the RF and the optical light, reducing the risk of side effects associated with each. Bipolar RF facilitates deeper dermal treatment to stimulate collagen production, which leads to skin tightening.


Sublime™ can safely treat all skin types for sagginess, loss of elasticity, or textural irregularities. Treatment can be done on the face, neck, or other areas of the body. Most patients see gradual and cumulative results throughout the Sublime™ treatments. The total number of required treatment sessions depends on the patient's skin condition but typically a series of three to five consecutive treatments are recommended for maximum results.

Discounted packages are available and may include home care products or other treatments combined to deliver maximum results.
Contact
the experts in Sublime Skin Contouring and Tightening in Palm Harbor, Safety Harbor, Clearwater, Tampa, Dunedin, Tarpon Springs, Trinity, and New Port Richey Florida.