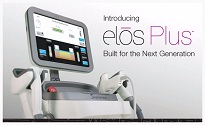 We use Elos Plus laser by Syneron/Candela which is the newest and most advanced laser hair removal treatment. The Elos Plus provides high-volume permanent hair reduction for any skin type – without sacrificing patient comfort and with ensured safety. Elos Plus Laser - the world's most advanced hair removal treatment – faster, more effective, and less pain compared to any other laser hair removal device.
Our Laser Hair Removal device features the largest spot size available today, which allows us to treat unwanted hair quicker than ever before. Even in the largest areas, such as the back, can be treated within a shorter period of time.
Safe and successful laser hair treatment is the result of experience, understanding laser physics, and educating our patients about the hair removal process. Depending on your needs, most body areas and skin types can be treated with this state-of-the-art technology of the Elos Plus.
Contact the experts in laser hair removal in Palm Harbor, Safety Harbor, Clearwater, Tampa, Dunedin, Tarpon Springs, Trinity, and New Port Richey Florida.